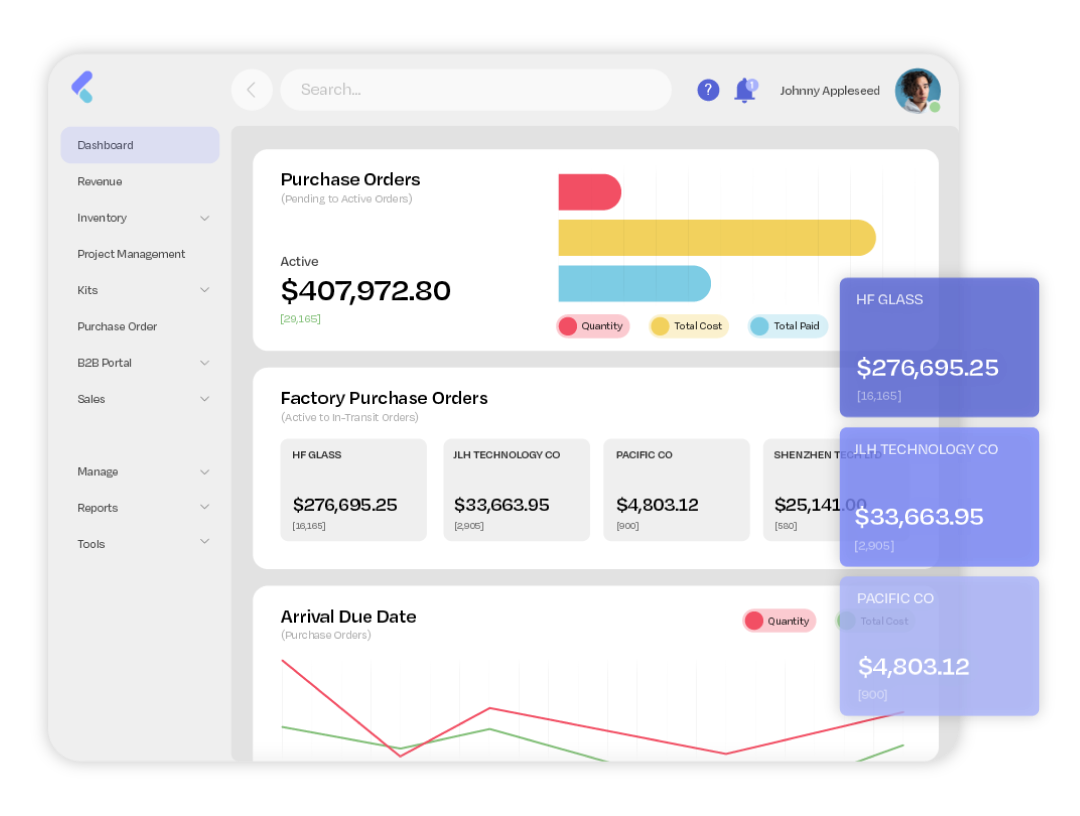 Juggling too many sources of data at once is a nightmare.
You're not a machine, so why manage like a machine? Jumping back and forth from point solution to point solution and having no single source of truth to rely on when gathering important product or revenue data is a cause of burnout for many mid-sized e-commerce companies.
Luminous wakes you up from the nightmare of multiple point solutions and offers a seamlessly integrated, all-in-one platform to manage and grow your company the way you were meant to. Our advanced supply chain visibility software makes it easier to review business components that make up your B2B ecommerce supply chain with readily available data.
Seamless Integration
Unify all your sales and ecommerce channels, accounting software, and shipping tools easily and seamlessly with Luminous.
Product Forecasting
Never be surprised by stockouts again with Luminous. Get intelligent inventory reports and customize trigger alerts to automatically reorder products.
Project Management
Luminous offers an easy and sophisticated way to manage your company's projects and stay on top of tasks.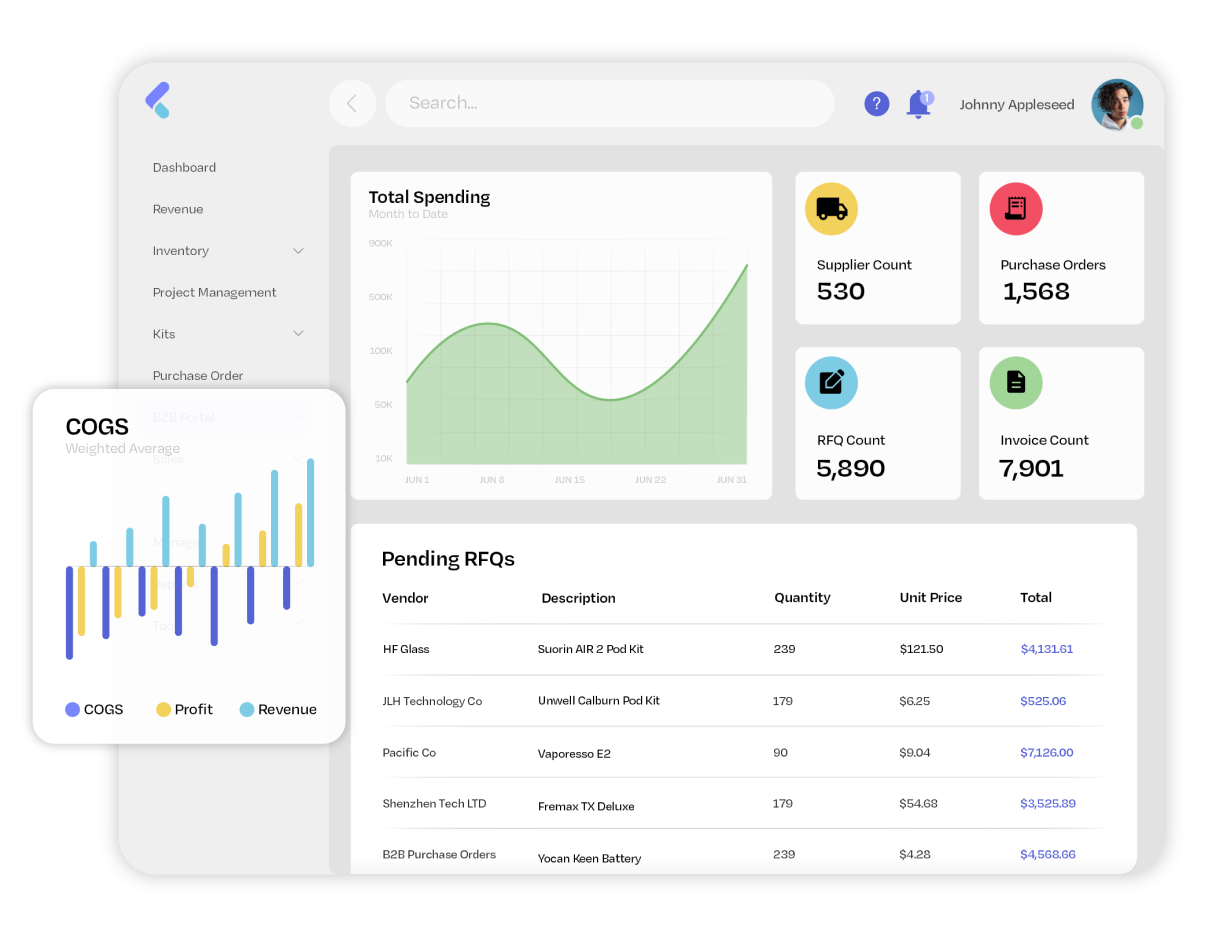 You need a competitive edge when managing supplier relationships.
It's hard to stay on top of product sourcing when all your energy goes into menial accounting tasks. Luminous does the hard work for you by intelligently calculating COGS with support for multiple accounting methods, as well as managing RFQ's, quotes, vendors, and purchase orders so you can easily find and build a relationship with the best supplier for your needs.
COGS Calculator
Our calculator accounts COGS by FIFO, LIFO, and Weighted Average, and smarter sourcing with Luminous has been proven to reduce average COGS.
RFQs and Purchasing
Luminous makes the RFQ and purchasing process easier than ever with unique automation tools and intelligent reporting that saves you time, energy, and money.
Launch New Products Fast
Luminous helps you find the best and most cost efficient vendors and suppliers for your needs, calculate lead times, and get your product on the shelf faster.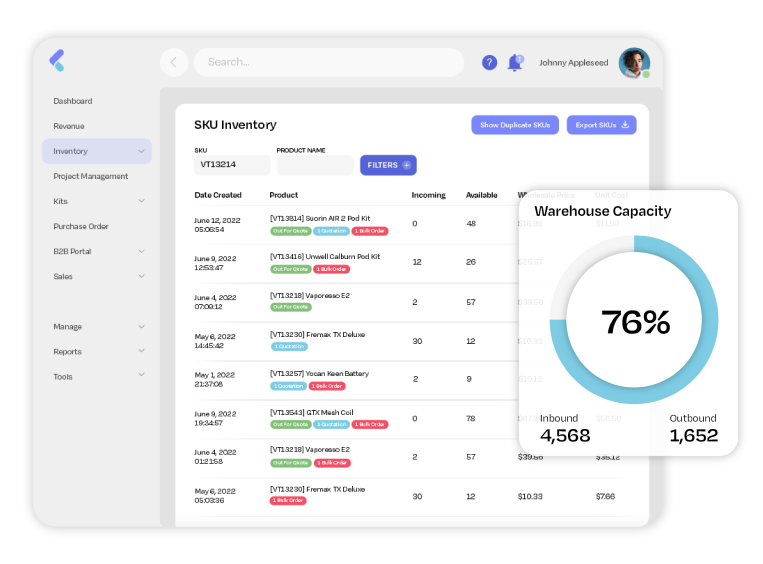 Disconnected inventory systems are a drain on your business.
Having to manually manage inventory across multiple unintegrated channels, being surprised by stockouts and overselling, and losing revenue through inefficient stocking or damaged units can be some of the biggest financial drains on your e-commerce business.
Luminous provides you with all the tools needed to create a perpetual inventory system where orders are instantly pushed live across channels, configure intelligent reorder triggers for certain quantity levels, and obtain a birds-eye view of all your channels, warehouses, and units in real time.
Perpetual Inventory
Luminous unifies all your sales channels and warehouses into a single system where orders can be tracked instantly from anywhere.
Reorder Triggers
When your stock hits a low point, Luminous will automatically trigger a reorder with conditions that are pre-configured by you, making surprise stockouts a thing of the past.
Lost or Damaged Stock
Receive instant feedback whenever stock is flagged and stay on top of issues before they disrupt your supply chain or reach your customer.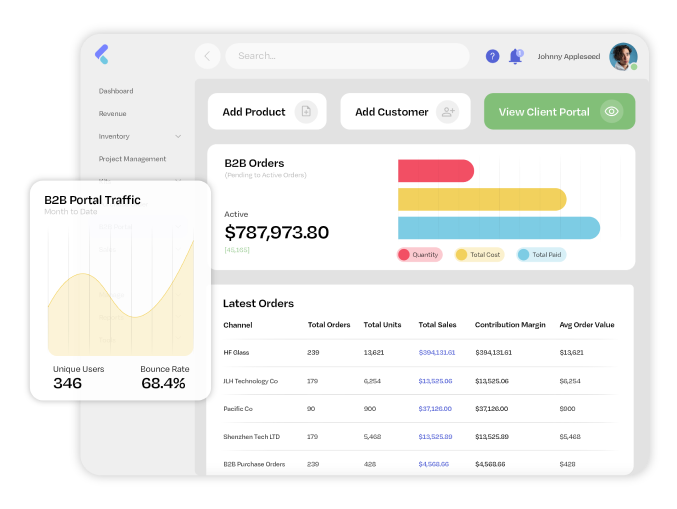 Your sales team needs an intelligent solution for B2B transactions.
Due to the complexity of many B2B sales transactions, especially wholesale invoices which involve highly varied pricing models, getting bogged down in the financial details can prevent your business from building effective B2B client relationships.
Luminous solves this problem by automating the wholesale pricing process and pairing it with a fully integrated B2B client portal to drive sales and free up valuable time and energy for your salespeople.
Intelligent CRM
Luminous features a no-fuss Client Relations Management platform to help you keep track of B2B customers, 3PL clients, wholesale buyers, and more.
B2B Client Portal
Streamline the process of handling wholesale transactions and free up valuable time for your sales team with our dedicated B2B client portal that allows for direct sales, easily.
Margin Calculator
Instead of manually calculating retail and wholesale prices or discounts, we do the math for you. Here's some math: companies see a 15-20% margin increase on average with Luminous.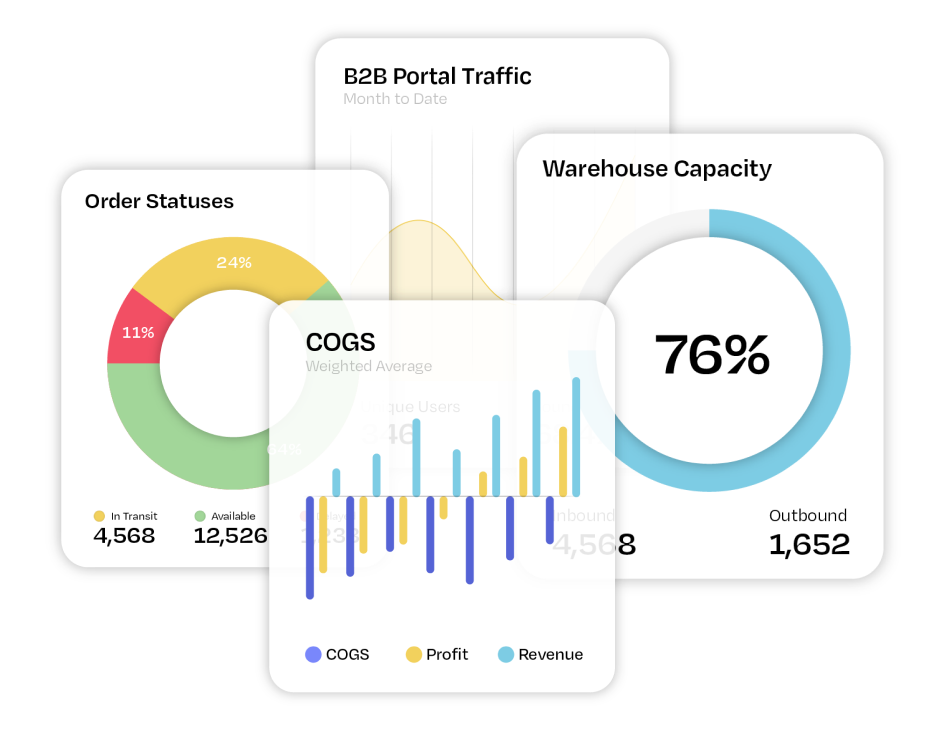 You need a platform that comes with real experts.
Behind the Luminous software is a dedicated team of sales, supply chain, and e-commerce operations experts who want to help you implement Luminous into your supply chain workflow as effortlessly as possible. Unlike supply chain management services that only provide new customers with an inexperienced account manager, we provide personalized and expert support to ensure that your business is equipped with the right tools to grow and thrive.
Ecommerce Experience
The Luminous team consists of former operations managers for ecommerce companies who know the inside and out of the ecommerce world.
Custom Implementation
No matter the size and scope of your business or what you are selling, the Luminous team is available to help implement the platform seamlessly with your team.
Continued Support
Our team's goal is to help your ecommerce business thrive and grow. We are dedicated to finding solutions for all your supply chain problems.
Ready to empower your business?
Luminous provides automated supply chain solutions to help B2B ecommerce businesses streamline processes
Luminous provides automated supply chain solutions to help B2B ecommerce businesses streamline processes and lower costs by converting company data into actionable visualizations and dashboard reports that achieve results. Our supply chain analysis tools can help your company make informed decisions that improve business operations and customer service. Gain access to tools that reduce inventory costs, optimize production workflows, and address transport and shipping challenges more efficiently. If you're seeking advanced supply chain resources to improve your business's ability to forecast, sell, and plan operations, the Luminous team is here to help.